HD-9300 Portable Veterinary Ultrasound Scanner
Caresono HD-9300 veterinary ultrasound scanner is suitable for the diagnosis of swine, equine, bovine, sheep, cats and dogs and other animals. Caresono HD-9300 veterinary ultrasound scanner is mainly used for pregnancy test and reproductive system disease detection and back fat measurement.
Caresono

China

3-15 working days

1000 pcs/month
1. Features
1.1 Main body:
Caresono HD-9300 veterinary ultrasound scanner adopts the most advanced technologies such as microcomputer control, digital scanning converter(DSC), large dynamic broadband low-noise preamplifier, logarithmic compression, demodulation, TGC control, dynamic filtration, edge enhancement, frame correlation, etc to ensure legible, stable and high resolution images.
Unique advanced technology makes the device in top good quality with high definition and accurate measurement results. HD-9300 is designed with full consideration of the user's usage environment. It is simple to operate, easy to carry and trustworthy.
●Four display modes: B, B+B, B+M, M; Image gray scale: 256 levels
●Can realize image real time and frozen display
●M-mode scanning speed selectable
●VIDEO OUT can connect with external display, video image printer and other devices
●Adopting soft touch keyboard and mouse operation make the device fast, convenient and flexible
●Jet molding enclosure with hand-held structure, 5.6 inches TFT-LCD screen and combined power supply mode of AC adapter and built-in battery make the device convenient in outdoors and the environment where power offering is not available
●Adopting a large scale of programmable device (FPGA) and surface mounted technology (SMT) makes this device compact and light in weight
●The device consists of mainframe, probe and adapter.
1.2 Electronic probe features :
Patented product, high precision,adopting the most advanced technology, high resolution, high sensitivity, high definition, accurate measurement, more reliable. Different animals are equipped with different probes to ensure higher accurate measurement results.
2. Range of application
The device is suitable for the diagnosis of swine, equine, bovine, sheep, cats and dogs and other animals.
3. Standards implemented
This device is designed and manufactured in strict accordance with IEC60601-1:2005 (medical electrical equipment part 1: General requirements for safety)and IEC60601-1-2:2007(medical electrical equipment- Part 1-2:General requirements for safety-Collateral standard:Electromagnetic compatibility-Requirements and tests) and IEC60601-2-37:2007(medical electrical equipment: Particular safety requirements for medical ultrasound diagnostic and guardianship device). This device is veterinary B ultrasound diagnostic;the protection to the risk of electric shock is II a.
4. Specification: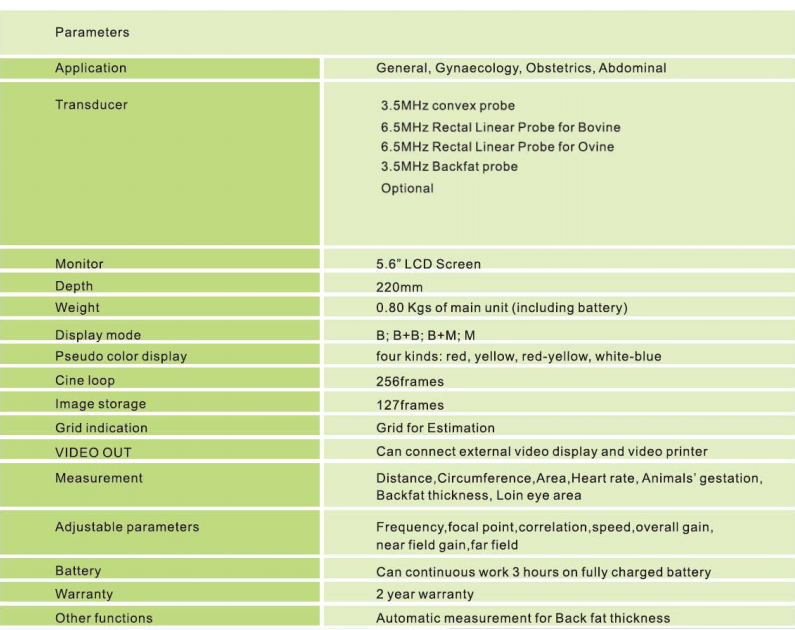 Get the latest price? We'll respond as soon as possible(within 12 hours)