PadScan HD5 Bladder Scanner
Caresono PadScan HD5 bladder scanner features a new 3D sector probe and real-time ultrasound imaging algorithms that measure the urinary bladder volume and post-void residual (PVR) quickly, safely, automatically and non-invasively. It is your ideal assistant to meet today's point-of-care challenges.
Caresono

China

3 -15 working days

1000pcs/month
Information
Video
Download
Function:The Device Is Used In Medical Departments For Bladder Volume Measurement Noninvasively.

Advantages:
1)One of the world's thinnest tablet bladder scanners ;
2)Red Dot Design Award winner 2013 in germany;
4)Unique design, independent research and development, invention patents;
5)Safe, accurate, automatic, reliable, easy to use.
Operation:Operator Should Stand In The Right Side Of The Patient, Locate The Bladder, About 3cm Below The Navel And Apply A Large Amount Of Ultrasound Gel On The Bladder And Press The Scan Button To Run The Automatic Real-Time Calculation.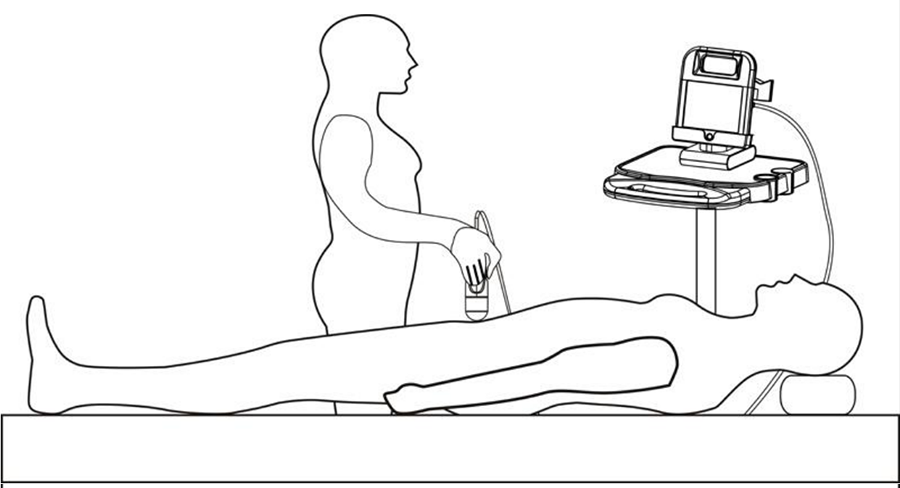 Principle Introduction: Built-In Dual Micro-Angle Stepper Motors In The Ultrasonic 3D Probe, It Can Scan The Bladder Continuously At High Speed In Three Dimensions, And Automatically Acquire 12 Cross-Sectional Images Of The Bladder, With Being Processed By The Original Bladder Edge Determination Technology, And Then Complete The Bladder Volume Determination By The Flap Superposition Technology Developed By Our Company (With Several Invention Patents).
The Product Relies On Caresono's Team Of Experts At Home And Abroad, And Independently Innovates A New Generation Of Bladder Volume Measurement Instrument. The Product Has Been Widely Used In Overseas Markets, And After Years Of Technical And Quality Verification In The International Market, Caresono Has Become An Original Design Manufacturer (ODM) For Labeling And Sales By Well-Known Foreign Companies.
Urology:To Provide Data For The Diagnosis Of Common Urological Diseases, Such As Prostatic Hyperplasia And Indications For Surgery And Assessment Of Bladder Function; To Provide Data On Residual Urine Volume For The Determination Of Postoperative Bladder Function Recovery And Prevention Of Complications.
Obstetrics And Gynecology:To Provide Data For Post-Operative Assessment Of Bladder Function In Obstetrics And Gynecology; To Provide Data On Residual Urine Volume For Pelvic Floor Function Reconstruction And Rehabilitation Result Assessment.
Radiotherapy Department:Provide Accurate Bladder Volume Data For CT Localization And Radiation Therapy For Pelvic Tumor Precision Radiotherapy.
Rehabilitation:Provide Accurate Bladder Volume Data For Treatment Of Neurogenic Bladder And Timing Of Intermittent Catheterization For Bladder Function Rehabilitation Training.
Neurology:Provide Bladder Capacity And Residual Urine Volume Data For Stroke, Cerebral Infarction And Other Diseases That Can Cause Urinary Dysfunction And Require Catheterization Or Verification Of The Effectiveness Of Drug Therapy.
Endocrinology:Provide Data On Bladder Residual Urine Volume For The Prevention And Treatment Of Neurogenic Bladder Or Diabetic Nephropathy Caused By Diabetes Mellitus.
Neurosurgery:Provide Bladder Capacity And Residual Urine Volume Data For Voiding Dysfunction Caused By Traumatic Brain Injury And Other Causes That Require Catheterization Or To Verify The Effectiveness Of Drug Therapy.
In Addition, Bladder Scanner Can Be Used In Departments Such As General Surgery, Anorectology, Orthopedics, ICU, Emergency Care Units, Operating Rooms, Pediatrics, Medical Examination Centers And All Clinical Departments Where Catheterization Is Required.

Benefits of bladder scanners
1) Avoid the pain caused by unnecessary intubation.
2) Reduce the chance of urinary tract infections.
3) Monitor urine and prevent urinary retention.
4) Reduce hospital costs and save doctors' working time.
5) Easy operation, and there is no requirement for sonographers.
6) Reduce doctor-patient conflicts and improve the quality of patient treatment.
7) Improve work efficiency and avoid waste of resources.
Ergonomic
System on Chip(SOC):enables advanced ultrasound technologies in an extremely compact design
Full alphanumeric keyboard on 8"touch screen
Lightweight tablet design, grab and go
Streamlined workflow for scanning, data archiving
Built-in thermal printer for easy printing
Efficient
Innovative implementation of Tissue Harmonic Imaging(THI) technologies to improve image quality and scanning accuracy
Optimized frequency for adult and small child(2.5/5.0MHz)
New generation of 3D probe for real-time scanning and calculating
Fast calculating within seconds
Built-in memory and external USB disk for easy data storage
Eco-friendly
Care for environment during manufacturing
Extreme compact design is energy efficient and reliable
Improve battery life and less heating
Helps reduce ecological footprint and contribute to a sustainable care environment
Get the latest price? We'll respond as soon as possible(within 12 hours)